What You Need to Know When Exercise with Colored Contacts
Jul 05,2022 | Lensweets
Compared to frame glasses, most people prefer to wear colored contact lenses during exercise because the frame glasses limit the visual field and easily slip off after sweating. Wearing colored contact lenses can not only solve the problem of myopia but also beautify the eyes to make them brighter and more vibrant.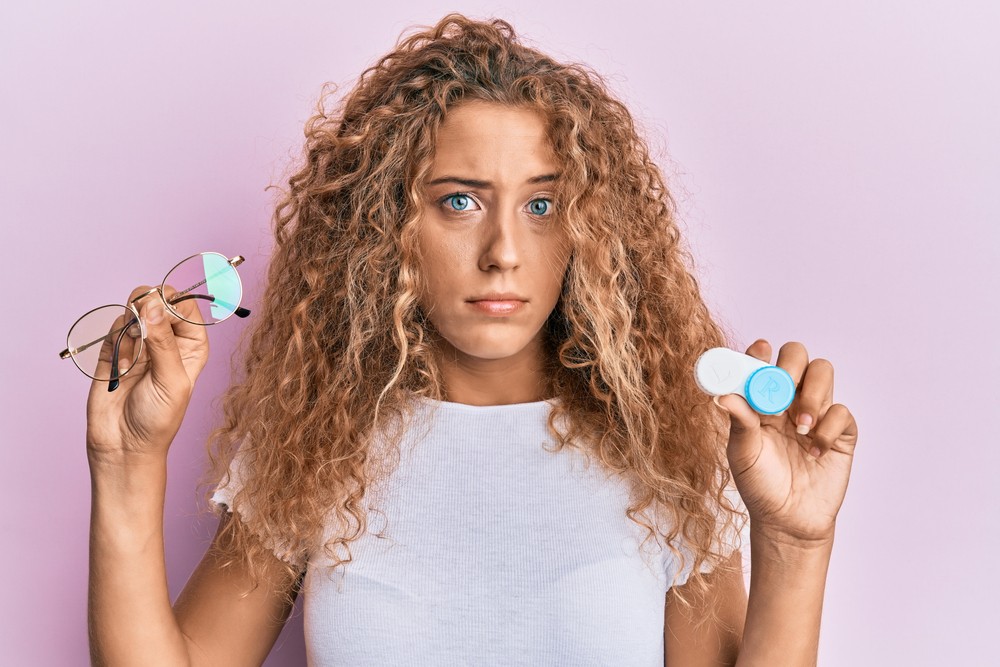 When you prepare to exercise with colored contact lenses, we invite you to check out our tips for better and safer ways to enjoy the process of exercise.
Before wearing colored contact lenses, please confirm that you have no eye diseases or eye discomfort. Then checking the attributes of lenses such as Base Curve, Diameter, and Water Content all match your prescription. If the colored contact lenses do not match your prescription or fit poorly in your eyes, wearing them will cause long-term eye damage.

You are wearing colored contact lenses 30-45 minutes in advance to allow enough time for the eyes to adapt. If you experience eye discomfort, take the lenses off immediately and seek medical attention in time to avoid eye damage during exercise.
Carrying spare contact lenses with you, as well as a small bottle of care solution and lens case, in case dust or small particles get into your eyes or the lenses fall or misplace during your exercise.

When you exercise with colored contact lenses, please wipe sweat in time or wear a sweat-absorbing headband because the sweat flowing into the eyes will not only displace the lenses easily but also cause eye inflammation and infection due to the bacteria in sweat.
Avoid rubbing your eyes. It is a natural reaction and habit to rub your eyes when you get something in your eyes. But in the process of exercise, rubbing your eyes can cause damage to contact lenses and even irritate your eyes further and expose them to bacteria.

More importantly, not all sports are suitable for wearing contact lenses. The U.S. Food and Drug Administration (FDA) mandates that you should not expose your contact lenses to any form of water, including swimming, diving, and other water-related sports, even showering and hot tubs. This is because playing water sports with contact lenses can lead to possible eye infections from exposure to bacteria. If you need to wear contact lenses when swimming, you can consider prescription goggles to cover your eyes.
In addition, we suggest our customers not wear colored contact lenses when exercising under the following special circumstances.
Cold Patients
Cold patients often carry many germs on their hands, and the germs can quickly enter the eyes and cause infection when people wear or remove lenses. Moreover, cold patients are often accompanied by mild conjunctiva, corneal inflammation, or retinal inflammation, which will worsen the inflammation with colored contact lenses.
Pregnancy and Menstruation Period
The changes in endocrine function during pregnancy and physiological period will lead to the weakness of the barrier function of corneal tissue and a decrease in tear secretion. Therefore, wearing colored contact lenses at this time can easily cause eye discomfort.
Allergy-prone People
People who usually suffer from seasonal or perennial allergic conjunctivitis are suggested not to wear colored contact lenses to avoid complications.
People with Eye Disease
People with keratitis, conjunctivitis, severe trachoma, or other eye disease are not suitable for wearing colored contact lenses.
To sum up, wearing colored contact lenses while exercising is an excellent alternative to eyeglasses, as long as you keep yourself safe by understanding the risks. Lensweets attach great importance to customer vision health, so we encourage all of our customers to take the time to learn this guide when exercising with colored contact lenses.
Back to News.